High-speed rail station wingspan screen debut
Shanghai Hongqiao Railway Station,located in Minhang District, Shanghai, China. It is part of the Shanghai Hongqiao Integrated Transportation Hub , the most important and largest railway passenger transport hub in East China.
At the Hongqiao Station, a billboard attract the attention of the people coming soon. PJ-LINK Rotating Waypoint breaks the limitation of the traditional LED large screen. The screen body can be rotated 360 degrees. Each layer can be combined to interpret the overall advertising content, and can also play public information or guide the indicative information in a single layer.
The rotation track can be arbitrarily programmed with the video content, and the creative combination of various pictures and actions can more vividly express the video theme. Of course, the visual effect is also unattainable by ordinary screens, which can convey the video content more deeply and greatly improve the expected effect of the advertising video.
The two points are placed in the entrance to the ticket office of the North and South Security District and the intersection of the access to the central waiting area. The outer circle passengers can clearly see the meeting point logo, and the inner circle passengers can find the meeting point from the passage.
Waypoint is flexible, creative, and highly visible, creating a brand effect; deepening the passengers' memory of the media through repeated influences; located near the security check-in station, the picture is strong. Moreover, it is in the gathering area of passenger flow, which can increase the exposure rate and the influence of advertising is unparalleled.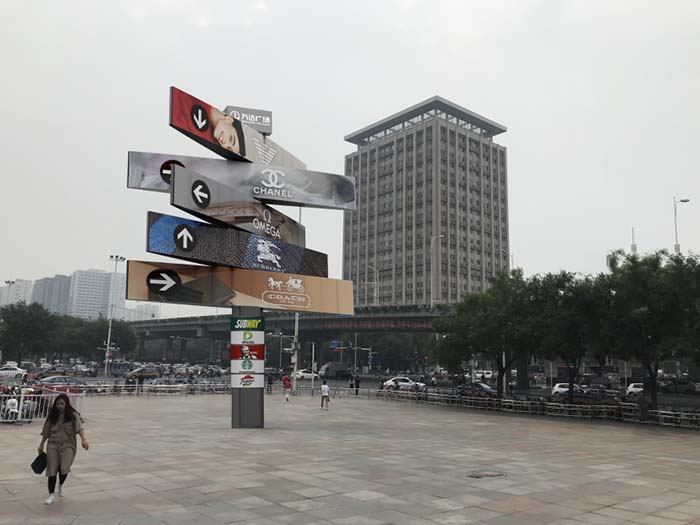 Why choose Hongqiao Station for advertising?
I.Location Advantage: Shanghai Hongqiao Station is the most important and largest railway passenger transportation hub in East China. With complete facilities and the passenger transit demand brought by Hongqiao Airport, it is undoubtedly the most convenient transportation platform.
II.The media advantage: For the brand , Hongqiao Station as the location of the media, the market is wide enough and is expanding. In the horizontal direction, whether it is a high-end business group or a young family, it is a high-frequency passenger group, covering all kinds of target customers of various brands.
The manufacturer Hangzhou PJL Cultural&Creative Co.,Ltd, a new media equiment manufacturer and advertising platform operator based on new media laboratory as the background.Products cover domestic expressway, airports, railway station and other media sites.After years of development, it gradually grow into a platform for cooperation and communication between advertisers and media resources,also has grown into a leading outdoor media supplier in the industry.